Services
Main Content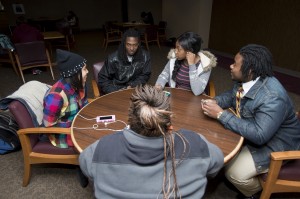 The program seeks to develop the total student – mind, body, and soul – while instilling a sense of pride and self-worth in the participants. It searches out students who do not mind hard work, who are willing to be challenged mentally and physically. Two program ideals are leadership development and academic excellence. Students receive the necessary survival skills so that they are prepared for life beyond the educational arena.

Recognition takes two forms. First, the program seeks to recognize the achievements and successes of its students. Secondly, it is important for the students to recognize those individuals who have impacted their lives. Consequently, Project Upward Bound students will become involved in school and community service projects as a way of saying 'thank you for caring.' Recognition also requires an awareness of self, because it is important for students to know themselves.

Services are provided to participants during the regular school year (Academic Year Program) and during six weeks in the summer (Summer Program). A special college preparatory program (The Summer Bridge Program) is also offered for Upward Bound seniors who have graduated and plan to attend SIU.